PC Instruction and Guidance | Smartphone Optimization
It is a beautiful thing reorganizing your computer, for your life.
---
Organize Files and Folders. Dan will help you organize your computer files, folders, programs (Apps) and simply improve your know-how so you can get to where you want to go, fast, efficient and consistently, every time on your Notebook or Desktop computer. Learn how to properly back up your data, folders, files and applications on your computer so they're sound, safe and secure. The Defragging and Scandisk of your hard drive still need to be done to optimize how your computer sees and retrieves data so you can use it quickly and effectively.
---
Smartphones. Android or Apple Smartphone's: everyone seems to own one! There are proper ways to optimize your Smartphone that make them easier to use, navigate and save on battery life. Utilize Apps you need and discard Apps you don't need. Back up your contacts. Learn how to best use your Smartphone because they're really a Computer with a phone attached! Dan will help you get the most out of your Smartphone, iPad or tablet.
---
Troubleshooting. Do you have Notebook or Desktop computer problems, error screens, application failures, printer problems and internet connectivity issues? Dan knows how to help you back to a smooth operating system. He's patient and a good listener and teacher, and knows how to explain problems well with solutions so you can learn at your level and get you computing again at your pace.
---
The Right Computer. Selection of the right Notebook or Desktop or Smartphone computer is very important to stay connected to the world the way, you want. Dan will consult you on the right computer for your needs; pick up, deliver and set up your computer for you, along with a printer and mouse that's just right. Dan will help educate you on the proper use of various programs, Internet, and social media interaction, along with staying organized with your folders and files. PC or Mac.
Dan has over 20 years in serving clients in computer consulting. Dan is Microsoft Trained, PCC, Portland Oregon, learning hardware and software architectures so troubleshooting and keeping a smooth operating system running strong without bugs. Helping people keep their computer organized is very rewarding!
---
Here are my logos I designed for my businesses through the years.
---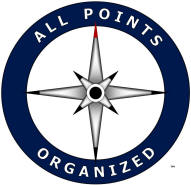 All Points Organized. Life. Positively in order.