It is a beautiful thing reorganizing your computer, for your life.
---
Computer Consulting and Logo Design. Finding the right computer that fits the clients needs is very important. Personalized high-tech shopping saves the client time and money. Dan will pick-up and deliver your new computer and printer if applicable. Dan will then, un-box and properly set and configure your new computer, whether it be a Desktop or Notebook (laptop) computer for the clients needs. Well versed in Microsoft Office, Dan teach you basics to advanced on various MS Office program usage. Dan will provide applicable education on effective social media use and how best to keep your personal information, personal in a world of Facebook, Linked In and all the other data-grabbing apps so your digital info is secure and your life is kept private and you share what you want, not what you don't want.
---
Learn how to properly back up your data, folders, files and applications on your computer so they're sound, safe and secure.
Do you have computer problems, error screens, application failures, printer problems and internet connectivity issues? Dan knows how to help you back to a smooth operating system. He's patient and a good teacher, knows how to explain problems well with solutions so you can learn at your level and get you computing again at your pace.
---
Dan is quite competent, organized and very creative in graphic design; specifically custom business Logos, business brochures and business cards.
I have 22-years of client based service and I attended Microsoft certification school for two years. Helping people in computing is very rewarding to me!
---
Here are some logos I designed for my businesses through the years.
---
And my latest creation: a conglomeration of all my skills and passions - my favorite!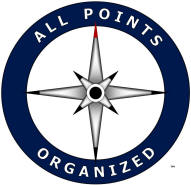 All Points Organized. Life. Positively in order.